Meet Our 
Accelerated Service Consultants
Zach Zeune

zachzeune@acuracolumbus.com

Todd Skidmore


toddskidmore@acuracolumbus.com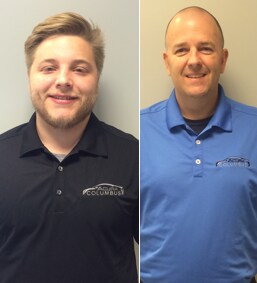 A lot can happen in 60 minutes! 
In our Columbus Acura service center client lounge, time flies right by. In our service bays, specially trained Accelerated Service Technician Teams will complete a multi-point inspection along with your service, using Genuine Acura Parts and Fluids. You have the option of a complimentary wash and vacuum that will extend the total service time to just under an hour. After you've owned your Acura for a bit and have taken it on everyday excursions, you're going to need to bring it in for regular maintenance. Whether it's time to buy new tires, get an oil change or even just have your tires rotated, these simple fixes will ensure your vehicle lasts for a long time.
The experience starts when you arrive. You'll be met by an Accelerated Service Consultant waiting to expedite your check-in. You'll find it fast and more convenient than ever to wait while your service is being completed. Our client lounge offers quiet, comfortable seating, wireless internet access, complimentary refreshments, and you can even watch your vehicle on our TV screens as your service is completed!

Schedule Accelerated Service at Our Columbus Acura Service Center
Even if you need to come in without an appointment we'd be happy to help you. Then, our expert Acura service techs will take a look at your vehicle, diagnose any problem, let you know what's going on and then they'll make sure everything is in proper working order. This all will happen quickly and efficiently so you're back on the road in your trusted Acura vehicle.
For more information on our accelerated service,
contact us
at Acura Columbus.
Accelerated Service Maintenance Minder

Code A1

Equivalent to 7,500 Maintenance Interval

Change Engine Oil With Genuine

Acura Synthetic Motor Oil And Parts

Change Engine Oil Filter (Optional For A) 
Tire Rotation (1 code)
Multi-Point Inspection Including:

Test Battery 

Inspect All Exterior Lighting

Hand Torque All Lug Nuts

Inspect Brake Components 

Inspect Suspension Components

Inspect Underside of Chassis
Inspect Seat Belts
Inspect All Vital Fluids
Adjust Tire Pressure
Inspect Tire Condition

























Accelerated Service Maintenance Minder

Code B1

Equivalent to 7,500 Maintenance Interval

Change Engine Oil With Genuine

Acura Synthetic Motor Oil And Parts

Change Engine Oil Filter
Tire Rotation (1 code)
Brake Caliper Service (recommended)
Wiper Insert Replacement (Included at Acura Columbus with your B service!)
Comprehensive Multi-Point Inspection Including:
    Test Battery Condition
    Inspect All Exterior Lighting
    Hand Torque All Lug Nuts
    Inspect Brake Component
    Measure Brake Lining Wear
    Inspect Suspension Components
    Inspect Underside Of Chassis
    Inspect Seat Belts
    Inspect All Vital Fluids
    Adjust Tire Pressure
    Inspect Tire Condition

   

Measure Tire Wear

    Inspect Exhaust System

    Inspect Fuel Lines and Connections




Accelerated Service Maintenance Minder

Code 2
Genuine Acura Filter Replacement


Replace Engine Air Filter
Replace Cabin Air Filter

  Accelerated Service Maintenance Minder
Code 3
Transmission & Transfer Case Fluid Replacement


Drain transmission fluid and replace with Genuine Acura Transmission Fluid
AWD vehicles only - Drain and replace the transfer case fluid and replace with Genuine Acura Transfer Case Fluid. 

  
Accelerated Service Maintenance Minder
Code 6
Differential Fluid Change


Drain differential fluid and replace with Genuine Acura Differential Fluid

 Acura Columbus Accelerated Service
Additional Service Offer


Battery Replacement
Replace Brake Fluid
Light Bulb Replacement (some exclusions)
Minor Tire Repair
Battery Service
Manual Transmission Service
Wiper Blade Inserts