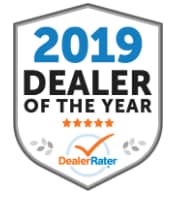 Expect an Exceptional Shopping Experience at Acura Columbus
Receiving this award is extremely important to us because it signifies that our customers are truly happy with our dealership, especially since they took the time to write positive reviews on DealerRater's website. At our Acura dealership, our dedicated staff always aims to please and we are proud that our positive actions haven't gone unnoticed.
As you can see, your feedback means a lot to our dealership. If you've visited us recently, we'd love to hear from you! Leave us a review today, and let Acura Columbus know just how we did.
Acura Awards & Recognition
Besides being honored with a DealerRater Dealer of the Year award, the Acura brand itself has also received a number of awards and recognitions, which makes our dealership even prouder of the brand we represent! Acura has received the following awards so far this year:
Acura ELS Studio 3DTM Named Car Audio System of the Year by Business Insider
Acura MDX Holds Strong with Highest Predicted Retention of Value 2019 Acura RDX Wins "Wards 10 Best UX" Award for Innovative Tech
2019 RDX Earns Highest Possible Safety Award from IIHS
Acura Vehicles Earn Consumer Guide® Automotive Best Buy Awards for 2019
ALG Awards MDX Highest Predicted Retention of Value
Sponsorship
We are pleased to announce that Acura is taking over title sponsorship of the Long Beach Grand Prix in 2019! It's extremely meaningful to us, as it demonstrates Acura's continued commitment to the brand itself, and now their commitment to a new long-term partnership with what is considered the greatest street race in North America.
At Acura Columbus, we look forward to living up to the DealerRater Dealer of the Year award's standards, and we are excited to watch the brand continue to make incredible accomplishments. To learn more about Acura's latest achievements, please don't hesitate to
contact us
at (844) 327-2747.